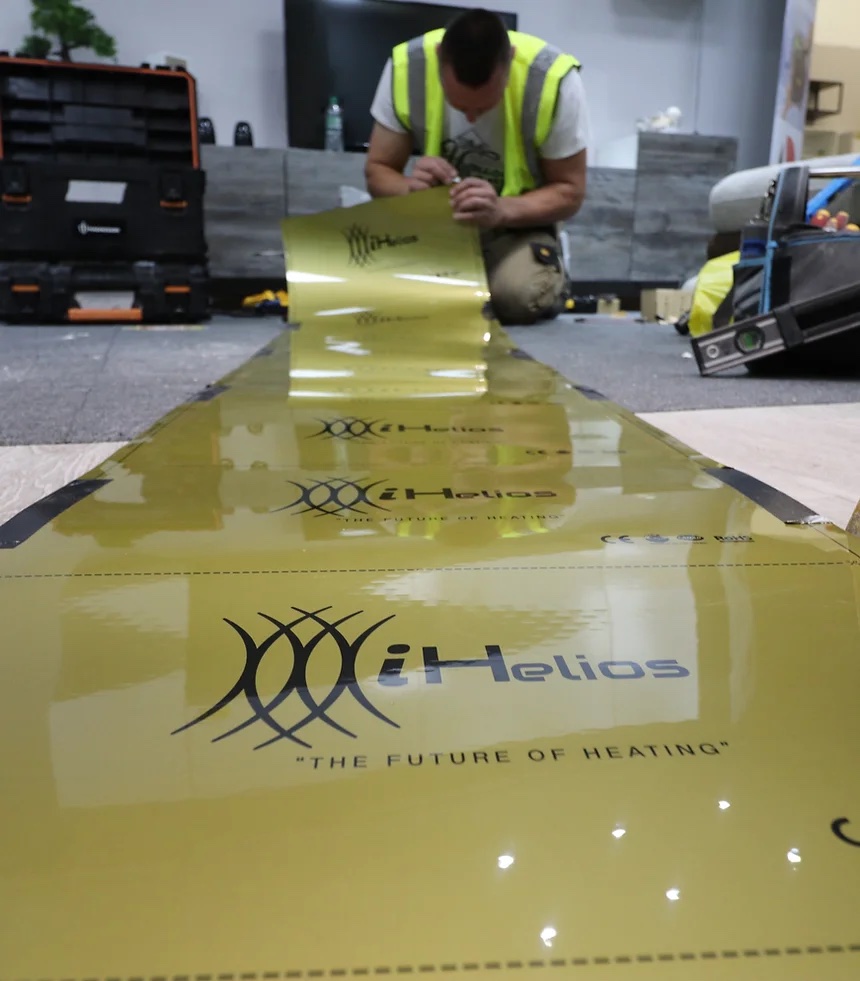 The iHelios Radiant heating is patented wafer-thin heating film. This heating system can be concealed within ceilings (suspended or exposed), underfloor or made to measure for bespoke ceiling or wall panels to maximise all available space.
With iHelios, there are no unsightly radiators or vents, so you can utilise all available space. No radiators restrict your living space. This heating reduces your energy consumption by between 66% to near 100%.
The complete system consists of only four components. Once installed, there are no moving parts. So, unlike a boiler or source heat pump, it is silent and requires no servicing throughout its lifetime.
iHelios Radiant heating system is a significant breakthrough in environmentally friendly heating technology. It has a UK Declaration of Conformity (UKCA) for Health, Safety, and Environmental Protection.
This heating system is compatible with solar and electrical power systems. When solar panels are added to the iHelios Heating System your heating and lighting can run for near free (98% estimated) on the energy stored in a battery direct from the solar panels.
Investing in solar panels, alongside iHelios Heating gives dramatic savings on your heating bills. This means a return on your investment can be reached in 5 years rather than 10 to 20 years compared to any other electric radiator/gas heating system.
The Benefits of Radiant Heating
Produce instant, healthy, infrared radiant heat
No dust, pollen and other allergens spread
Quick and easy to install by our fully qualified iHelios trained installers
Can reduce your energy consumption by between 66% to near 100% with additional insulation measures.
Smart Invisible Heating System with full Smart Home Control and Automatisation
Suitable for Hotels, Commercial Spaces and Households
98% Energy Transfer Ratio
Compatible with solar and electrical power systems
Get in touch and find out what we can offer you